DroidCon Berlin 2018: 5 best practices for mobile fleets efficiency by GREENSPECTOR
Reading Time:
2
minutes
---
As part of DroidCon Berlin, GREENSPECTOR was Bronze Sponsor of the Android Enterprise Summit and was able to value its feedback on the consideration of good practices in the contect of applications development and the Android smartphones fleets management.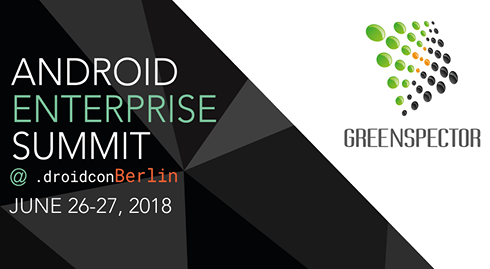 The 5 recommendations presented during our intervention are related to major client projects on large fleets:
1) The software is "hardware-dependent" and the consumption can be variable with equivalent functionality for a given use case. One measure provides lighting and avoids "hardware" consumption bugs before any choice and deployment. Example given on SNCF feedback in the help with the choice of equipment.
2) The choice of MDM (Mobile Device Management) is important to benchmark in terms of resource consumption and autonomy impact because depending on the solution deployed, MDM management layer leads to variable consumption of a publisher to the other on mobile or tablet. Feedback on the comparison between Mobile Iron, Air Watch and a mobile without MDM.
3) The choice of the development framework also impacts the resources: the simple and very upstream benchmarker helps to find the best energy-resources solution. Feedback on the comparison of native application vs Cordova application and Cordova + Crosswalk.
4) Communicating preferably with good connectivity by testing it before requesting the exchange will also significantly reduce the energy impact of each request. Example of energy consumption measurement of a shipment in 2G and 4G.
5) The management of the foreground or background inactivity phases will generate a significant part of the consumption of resources on the deployed device, which is often useless, but also to solicit more or less usefully the backend resources linked to the device.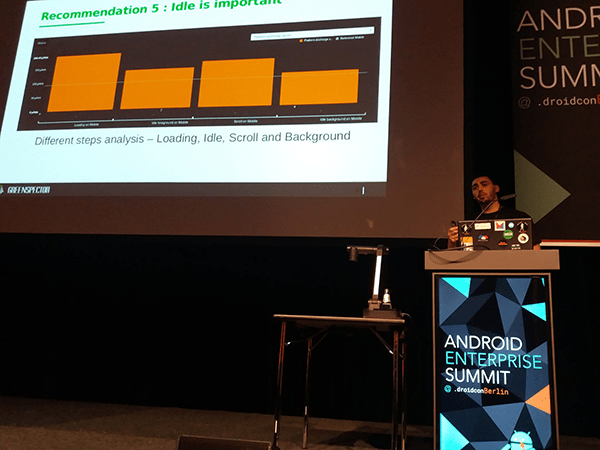 In addition to this talk, GREENSPECTOR has achieved a benchmark of the mobile applications of the DroidCon Berlin partners on a technical use scenario, without entering into the functionalities of the application. The results again show big differences on a basic scenario. Congratulations to SAP and Hot Spot Manager from Deutsche Telekom. A little less autonomy in the use of Amazon Shopping !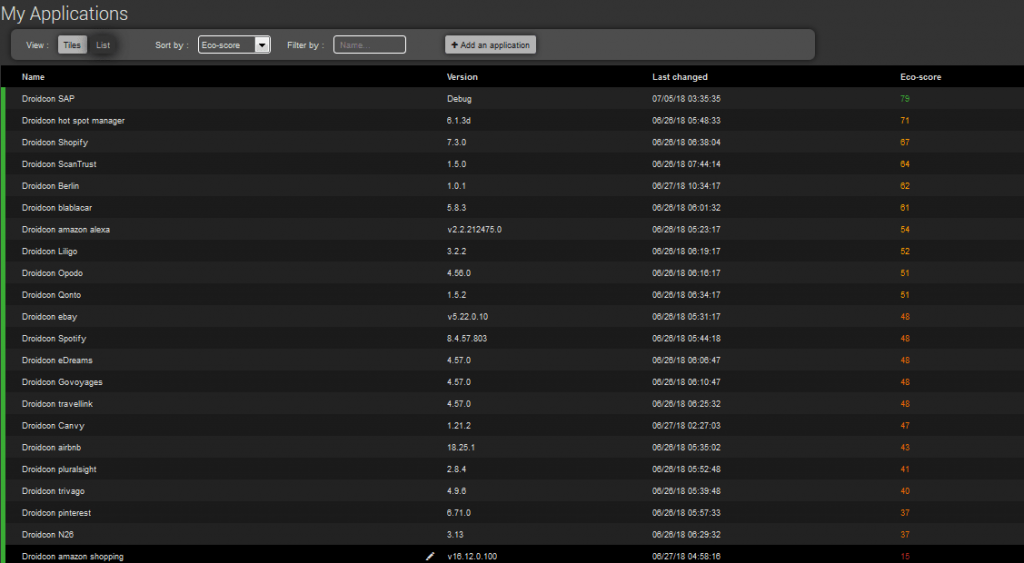 Kimberley DERUDDER has been marketing and communication officer at GREENSPECTOR for more than 3 years. Kimberley graduated with a master's degree in Marketing – Communication and specialized in Inbound Marketing after her first two years at GREENSPECTOR. Today in charge of the animation of the marketing, social media and lead generation strategy, she also takes care of app comparisons and battles.