Fight of the week: UberEats vs Deliveroo
Reading Time:
3
minutes
---
Today we will study food delivery applications. These applications have multiplied in the last three years. In France, two leaders share the majority of the market:UberEats and Deliveroo. We decided to compare these two challengers to confront them on the following criteria: their energy consumption, their amount of exchanged data as well as their busy memory.

Deliveroo is a British company, created in 2013 and the main competitor of UberEats in France, covering more than 45 French cities.

UberEats was designed by the creators of Uber in August 2014 and is available in several countries of the world, and in more than 70 cities in France and this 24/24.

These two applications allow you to order and receive meals delivered from restaurants near you.
Weighing
From the point of view of the app weight, Deliveroo is the featherweight. Indeed, its weight (22 MB) is 1.4 times lower than that of UberEats (31 MB).
Match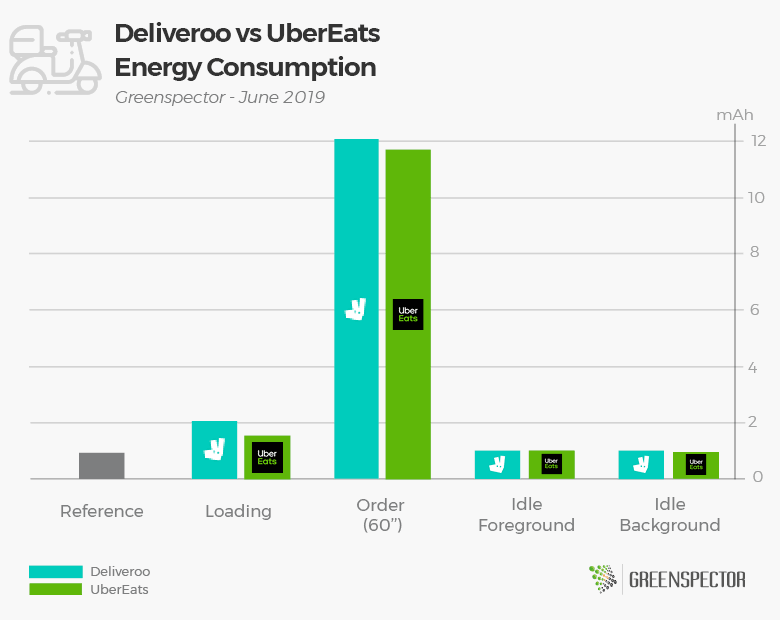 From the beginning of the match, UberEats takes a clear advantage over his opponent with a launch that consumes 13% less battery. He manages to maintain his advantage during the decisive phase of this match, which consists of ordering a meal (-2.5%). The confrontation ends with two rounds of observation of the rest phases of each opponent, during which the two competitors are tied.
Over the whole match, UberEats wins on the points against Deliveroo that resists well.
Note that we are dealing here with two "heavyweights" who will both mark your battery their footprint!
And the winner is…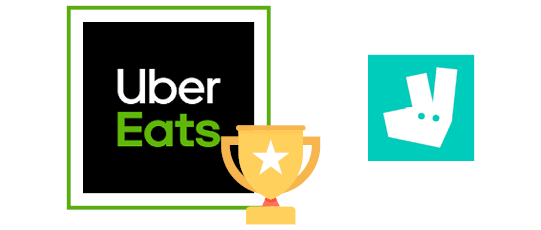 For this very first fight, the match is tight but UberEats wins 15.7 mAh at 16.2 mAh in front of Deliveroo, consuming nearly 3.5% less energy.
Note however that the Deliveroo app is lighter to download and consumes less data – so if you have a small data package or unstable connection, it can be interesting.
These two applications can be compared on a one-minute scenario to the energy consumption of a Netflix, they are also 1.6 times more consuming than an application such as Spotify. (Source: Study Consumption of top 30 most popular mobile applications)
For those who like numbers
| Application | Version | Downloads | Playstore Grade | App weight (MB) | Exchanged data (MB) | Memory (MB) | Energy consumption (mAh) |
| --- | --- | --- | --- | --- | --- | --- | --- |
| Deliveroo | 3.4.1 | 5 000 000+ | 4.2 | 22 | 3.35 | 218.85 | 12.02 |
| UberEats | 1.201.10002 | 50 000 000+ | 4.2 | 31 | 3.66 | 227.74 | 11.72 |
The measurements were carried out by our laboratory on the basis of a standardized protocol, respecting a specific user scenario (launch of the application, selection of a delivery address, scroll on the pages of choice of restaurants and selection of a restaurant, scroll on the page of the dishes and add in the basket). The other scenarios are the launch of the application (20"), inactivity in the foreground (20") and inactivity in the background (20").
Kimberley DERUDDER has been marketing and communication officer at GREENSPECTOR for more than 3 years. Kimberley graduated with a master's degree in Marketing – Communication and specialized in Inbound Marketing after her first two years at GREENSPECTOR. Today in charge of the animation of the marketing, social media and lead generation strategy, she also takes care of app comparisons and battles.