GREENSPECTOR is Business France's favourite at Mobile World Congress 2018
Reading Time:
2
minutes
---
GREENSPECTOR, a French company originated from Nantes is rewarded for its solution which improves the efficiency and performance of mobile services. It has being elected as jury's favourite of theBusiness France – Orange Awards at the Mobile World Congress 2018 held in Barcelona.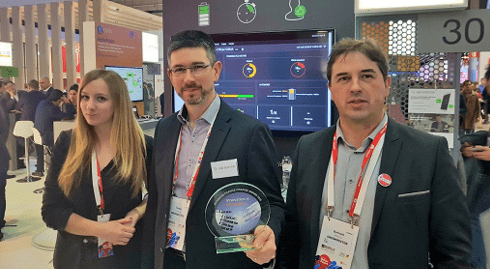 Mobile World Congress 2018 : GREENSPECTOR is the winner of the French Tech Business France's "Coup de Cœur" award.
With more than 108,000 participants, 2,300 exhibitors and 208 countries represented, the Mobile World Congress in Barcelona is the world's leading event for mobility. GREENSPECTOR presented its 2018 innovation as part of the FrenchTech delegation, led by Business France, which brought under the Frecnh Tech flag nearly a hundred French companies.
GREENSPECTOR presented its solution dedicated to the efficiency of mobile applications. Designed as a developer's tool, it can help software factories to significantly enhance the user experience, the performance of applications or improve the battery life of mobile devices. GREENSPECTOR solutions have been adopted by major companies in France and other countries. On Monday, February 26, the company received the "Coup de Coeur" award from the Business France – Orange Awards jury.
"Hervé Naudin, Orange's Business Developer Startup and Open Innovation, Business France partner"
Nowadays, mobile OS are hunting applications that consume too many resources and that reduce the smartphone's battery life. GREENSPECTOR helps application editors to solve this consumption issue. It also reduces the environmental impact of digital services.
Following the award ceremony, the French Secretary of State for Digital Affairs Mr Mounir Mahjoubi visited the company booth and congratulated the GREENSPECTOR team for their innovations.
"Thomas CORVAISIER, GREENSPECTOR's CEO"
We are delighted and honoured to receive this award which rewards several years of research and innovation. These efforts allow us to offer a unique product on the market. Receiving this award at the Mobile World Congress, among the best technology players in the world, has a special flavour.
GREENSPECTOR conquers international markets.
The company has recently upgraded its product to propose a new SaaS solution, more accessible and more attractive in order to facilitate its international adoption. In the meantime, it continues to market its Enterprise offering to major players mainly in banking, defence and telecommunications sectors in France and Europe.

Kimberley DERUDDER has been digital marketing manager at Greenspector for more than 5 years. Kimberley graduated with a master's degree in Marketing – Communication and specialized in Inbound Marketing after her first two years at Greenspector. Today in charge of the animation of the marketing, social media and lead generation strategy, she also takes care of app comparisons and battles.