GREENSPECTOR is Mobility for Business 2018's favourite startup!
Reading Time:
2
minutes
---
GREENSPECTOR was rewarded at Mobility for Business 2018, the event dedicated to mobile solutions and applications and designated as the "favourite" solution of the Mobility Awards jury.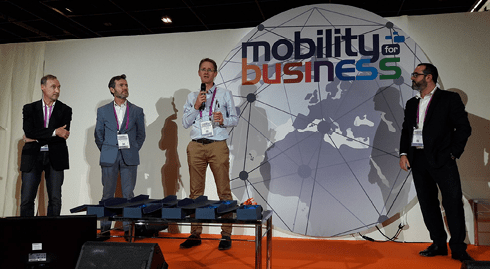 For the second year in a row, GREENSPECTOR is a partner and exhibitor of the event, which brings together more than 3,000 professionals around the theme of mobility.
Many round tables, thematic workshops and business meetings are organized to connect the actors and experts but also to exchange and promote the ecosystem of professional mobility.
The entire GREENSPECTOR team is delighted to receive this award, which recognizes our growing presence in the mobile performance market.
In the mobility market, and beyond reducing the energy-resource impact of applications, GREENSPECTOR brings a strong gain of use by improving battery life. In the B2B context of Mobility For Business, this contributes of course to operational excellence in mobility (experience / improved performance), but also to productivity gains (increased autonomy) and financial gains, particularly concerning the service life of employees. batteries (and therefore the life of the phone).
Behind the scenes of this award, I also understood that the subject Green of our approach state undeniably differentiating in a market of "always more" pushed by a more and more powerful material for a greedy embedded intelligence.
This prize makes us all the more pleased that it is awarded the same year as the favourite prize received at Mobile World Congress in Barcelona last February and confirms the interest and expectation of the market of the mobile on performance under stress.
These two awards are certainly the result of our R & D for 7 years and our market repositioning for 2 years but they are the result of the beautiful references that we have signed since 2017, especially with major French groups. We can mention among our first 15 customers: Orange, SNCF, ARKEA, the Gendarmerie Nationale, the DGA, SoLocal, … These references have confirmed the interest of making mobile applications less disposable, better quality and on which we're investing more and more in development and testing. "testifies Thierry LEBOUCQ, President of GREENSPECTOR.

Kimberley DERUDDER has been digital marketing manager at Greenspector for more than 5 years. Kimberley graduated with a master's degree in Marketing – Communication and specialized in Inbound Marketing after her first two years at Greenspector. Today in charge of the animation of the marketing, social media and lead generation strategy, she also takes care of app comparisons and battles.