Greenspector wins the "Digital Sobriety Award" at the Mobility for Business 20
Reading Time:
2
minutes
Greenspector took part for the fourth consecutive year at Mobility for Business 2021. On the occasion of this exhibition dedicated to mobile solutions and applications, Greenspector won the "Digital Sobriety Award" of the Mobility Awards.

The Mobility Awards aim to distinguish the best achievements, the best products and the most innovative approaches to professional mobility. This award recognises our achievement: the Digital Sobriety Certificate.
"The Greenspector team is proud to receive this award, which recognises the excellence of our solutions for a more responsible digital world, which have been adopted by our customers for several years now. The context of business mobility is particularly close to our hearts. Adopting a digital sobriety approach in this context means meeting CSR challenges. But it also contributes to performance (faster business applications, satisfaction of agents in the field), and it enables savings (more durable terminals have a lower TCO). Everyone wins: the environment, the users, and the IT department's budget," says Thomas Corvaisier, CEO of Greenspector.
What is the Greenspector's Digital Sobriety Certificate?
Greenspector's Digital Sobriety Certificate rewards the eco-responsibility of companies on consumer or business applications that have proven their good level of sobriety.
In particular, it ensures that the application's resource consumption on the terminal is compatible with the business challenges: battery life, application speed, CO2 footprint. The certificate thus makes it possible to reward progress and encourage internal and external teams to produce more energy-efficient applications.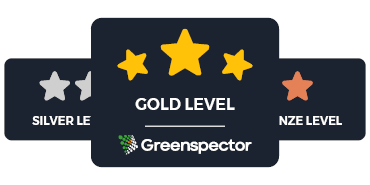 Greenspector's Digital Sobriety Certificate already adopted by our customers:
Do you want to evaluate the level of sobriety and performance of your (mobile or web) application? Please contact us!

Kimberley DERUDDER has been digital marketing manager at Greenspector for more than 5 years. Kimberley graduated with a master's degree in Marketing – Communication and specialized in Inbound Marketing after her first two years at Greenspector. Today in charge of the animation of the marketing, social media and lead generation strategy, she also takes care of app comparisons and battles.