Greenspector selected for LVMH's La Maison des Startups program at Station F
Reading Time:
2
minutes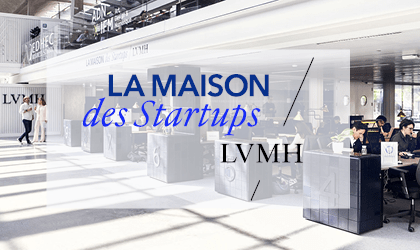 Greenspector has been chosen to participate in the 7th season of LVMH's La Maison des Startups program at Station F.

Since 2018, LVMH's accelerator program La Maison des Startups is located in Station F – Paris. Station F is the world's largest startup incubator and welcomes 50 international startups each year. The co-design program aims to accelerate collaboration between LVMH Group companies and innovative startups.
The mission of the LVMH Accelerator Program is to "start conversations between our talents and our entrepreneurs, so these could blossom into wonderful collaborations.."
"We are proud to have been selected for this 7th season of LVMH's La Maisons des Startups program. Greenspector has already had the opportunity to work with the LVMH Group and the Maison Dior on impact measurement and evaluation. The goal of the House of Startups is to accelerate collaboration between its Houses and startups related to the luxury sector. Digital activities are becoming increasingly important for events and business aspects, for the Group's various Houses and in general in the luxury and fashion sectors. Its impact tends to grow with its audience. Therefore, to see organic growth in digital uses, digital services must take their "share" of responsibility and reduce their environmental impact", says Thierry LEBOUCQ, Chairman of Greenspector.
The 7th promotion includes five other startups in the Sustainability category, demonstrating a growing commitment to societal and environmental issues. This is the largest contingent since the program was created.

Kimberley DERUDDER has been digital marketing manager at Greenspector for more than 5 years. Kimberley graduated with a master's degree in Marketing – Communication and specialized in Inbound Marketing after her first two years at Greenspector. Today in charge of the animation of the marketing, social media and lead generation strategy, she also takes care of app comparisons and battles.