Reading Time:
3
minutes
For this special "stay at home" battle, two applications offering cooking recipes will oppose: Marmiton et 750g.

In the left corner  Marmiton, a French application launched in 2000 which lists more than 71,000 cooking recipes. Marmiton also has 12.8 million unique visitors each month.

In the right corner 750g, created in 2010, is the second site offering recipes and culinary advice the most visited in France (8 million unique visitors each month). This site and application offers more than 80,000 recipes.
The weighting
At weighing 750g is the most caloric application with a weight of 90 MB. The Marmiton application is 61% lighter with a weight of 56 MB, which makes it still a relatively heavy application.
The fight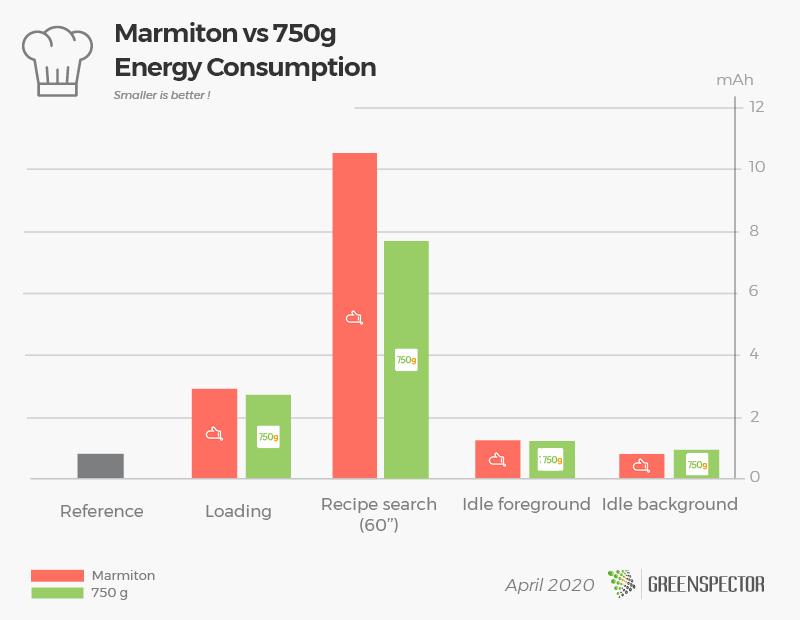 The fighters are getting ready to go on the grill!
In the first part of the match which naturally consists in observing the launch phase of the application, 750g (2.75 mAh) wins the first round by consuming 7% less than its opponent Marmiton (2.93 mAh). In the second round that corresponds to the use scenario (search for a chocolate fondant recipe), it is always 750g (7.69 mAh) which leads to Marmiton (10.48 mAh) with a lower consumption of 36%. To end this confrontation, we have set up two decisive rounds of observation of the rest phases of each opponent. While we are at the tableware stage, the two applications consume in an equivalent manner for the observation phase in the foreground (1.24 mAh). Nevertheless, in the observation phase in the background, Marmiton is in the lead with 14% less consumption.
The timer sounds, end of cooking for our two applications!
The winner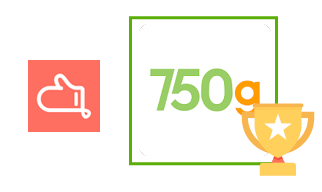 Without any surprise, the 750g application wins this match with an overall score of 12.6 mAh to 15.4 mAh, i.e. 18% less battery consumption compared to its opponent Marmiton, for whom the check is salty… Note that 750g is also less consumer in terms of data exchanged, 286 KB against 693 KB on the side of Marmiton.

Note that these two applications are particularly rich in elements listed by Exodus Privacy as falling under tracking and analytics tools: 11 for Marmiton, 17 for 750g… It makes people squint on your plate.
For those who like numbers
| | | | | | | | |
| --- | --- | --- | --- | --- | --- | --- | --- |
| Application | Version | Downloads | Playstore Grade | Application weight (MB) | Exchanged data (KB) | Memory consumption (MB) | Energy Consumption(mAh) |
| Marmiton | 5.2.43 | 5 000 000+ | 4,5 | 90 | 693 | 642 | 15,47 |
| 750g | 4.2.6 | 1 000 000+ | 4,4 | 56 | 286 | 339 | 12,63 |
On a 1-minute usage scenario, Marmiton's energy consumption is equivalent to a navigation application such as Google Chrome. As for 750g, its consumption is similar to an application such as a social network such as Instagram. (Source: Study Consumption of top 30 most popular mobile applications)
The measurements were carried out by our laboratory on the basis of a standardized protocol, respecting a specific user scenario (launch of the app, search for a recipe). The other scenarios are the launch of the application (20"), inactivity in the foreground (20") and inactivity in the background (20"). This methodology makes it possible to estimate the embedded application complexity and its energy impact during the use phase.

Kimberley DERUDDER has been digital marketing manager at Greenspector for more than 5 years. Kimberley graduated with a master's degree in Marketing – Communication and specialized in Inbound Marketing after her first two years at Greenspector. Today in charge of the animation of the marketing, social media and lead generation strategy, she also takes care of app comparisons and battles.