Metaverse and Digital Sobriety
Reading Time:
5
minutes
The concept of the Metaverse isn't new, and some may even remember Second Life, some consider it to be its first manifestation. The idea is to offer a virtual environment via what is now called XR (eXtended Reality), a mixture of augmented reality (a bit like Pokemon Go) and virtual reality (the older ones will think of the film The Lawnmower Man but we will prefer the example of Oculus Quest).
In October 2021, Meta (formerly called Facebook) announced that it was going all out on the subject of the Metaverse. A huge amount of investment is needed to create 10,000 jobs and train those who will work in this field. Many large companies have followed suit so as not to miss out.
The ultimate goal would be to provide users with a potentially 3D immersive environment where they could find their favourite brands and interact with whoever they want without leaving their homes.
Coupled with cryptocurrencies and NFTs, the metaverse would even be one of the pillars of Web3.
Like connected glasses, this is a digital Arlesian, and we are entitled to wonder if this new attempt will be successful this time. Except that the real question is whether the metaverse is compatible with current issues related to digital, which we find in particular through Responsible Digital.
Metaverse and Digital Sobriety
By taking up the main challenges of Responsible Digital, let's see what we can expect from the metaverse.
Accessibility
While more than 96% of websites have at least one accessibility error, the accessibility of the web as it exists today remains very problematic. Likewise, remember that access to the web remains complicated for a large part of the world's population, whether due to an outdated device, an insufficient internet connection or simply insufficient skills to be able to fully use the digital tools. Including these three issues, Digital illiteracy affects 17% of the French population.
In such conditions, it's a safe bet that the metaverse will not come to fix things. In the metaverse, those who are unable to access the web in satisfactory conditions today will probably be left out. Not to mention that the prerequisites in terms of the device power and internet connection may be much higher (but we will come back to this later).
Security
Digital illiteracy has a substantial impact on security: if individuals are not sufficiently prepared to use digital tools, they are exposed to risks they cannot control. There is no doubt that the metaverse will come with new attack opportunities. We can already imagine to what extent such an immersive universe and today also linked to major brands can offer new vectors for phishing. It is also to be feared that, in order not to interfere with the immersion or the comfort of the users, safety takes a back seat.
Capturing (and manipulation) attention
Attention capture (see French CNUM report in PDF) consists of setting up design mechanisms (scatological mechanisms or dark patterns) to retain the user's attention for as long as possible. In the metaverse, one can imagine that this will only get worse, one of the objectives being immersion. We are exposed to more than 5000 advertising stimuli each day, especially via the web. Based on the list of companies contributing to the metaverse, this is unlikely to succeed.
How, under these conditions, will our filter bubble evolve? Is there not a risk of seeing the influence of certain digital players on the political context increase? Should we be worried about Meta taking over the subject of the metaverse (in short: yes)?
Here are just a few questions among many others (on the moderation of this new shared space, the rights to the content that will be (re-)produced there, etc.).
Digital Sobriety
It is interesting to consider the metaverse from the angle of environmental impacts.
You will quite easily find experts extolling the merits of the metaverse to unclog the roads, project yourself into spacious offices at a lower cost, perform surgeries from the other side of the world, etc.
It's always thrilling to hope that someone will come up with a product that solves a whole host of issues we didn't even know existed. In this specific case, I would be in favour of the Design is the Problem approach. Nathan Shedroff explains how to rethink design in order to come up with truly sustainable solutions. He takes the example of the Segway PT, a personal, electric and removable/repairable transport device. Presented in this way, one would think that it would be a good idea for the planet. Except that the real concern of this device is that it does not meet a real user need. Indeed, public transport, cycling and walking can ideally replace it, with a much lower impact and financial cost. Any resemblance to electric scooters is purely coincidental (or not).
The metaverse poses the same problem in its very concept: it seeks to meet a myriad of diverse and varied needs, even though less impactful and costly alternatives exist. Only its technical and innovative varnish promotes its adoption and leads large companies to blindly embark on it.
In order to assess the environmental impact of the metaverse, several elements must be considered.
Even as initiatives are multiplying to reduce the environmental footprint of digital technology, the arrival of the metaverse, therefore, represents a major risk.
Conclusion
Efforts to extend Responsible Digital principles to the web are increasingly intense, and the work is already colossal. The arrival of Web3 and more particularly of the metaverse risks making these principles all the more essential but also more difficult to enforce. It seems (for once) easier to generate jobs and spend crazy sums for a concept whose usefulness remains to be proven than to work to make the web less impactful and more accessible for all.
The metaverse may indeed be designed with an eye to efficiency, or may even follow certain principles of Responsible Digital (though I seriously doubt this). In any case, the very nature of the project suggests that sobriety is not considered. It is all the more regrettable as the Digital Responsible itself contains the elements and principles that would help the achievement and adoption of the metaverse. However, the priorities seem to be different, and we can only regret to see once again the means of concentrating on something that will probably not contribute to making the web better. In the end, the metaverse seems to go against the efforts needed to mitigate climate change.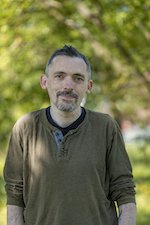 After working for more than 15 years in web development, Laurent Devernay became a technical consultant in responsible digital technology at Greenspector. When he is not coaching organizations on the eco-design of their digital services, he teaches courses on digital sobriety technologies.