Mobile One 2018: The ranking of partners and speakers applications
Reading Time:
2
minutes
---
On the occasion of Mobile One 2018 (formerly AppDays), the European conference dedicated to mobile, we were present on the stand of our partner Mobiapps and measured the 60 applications of partners and speakers of the event.
The Mobile One was the opportunity to confront a world increasingly mobile in its purchases, but also in its relationship with the brand in terms of loyalty and quality of service. Several conferences have confirmed the interest of investing in the test of applications and therefore in its quality. We have observed that the world of mobile applications is becoming more professional, organized and rationalized.In the quality of its applications, performance is a key element. A "performance under stress" of course since network and devices and its size aren't controlled by companies. A "powerful and light" application seems to be an orientation in the decisions.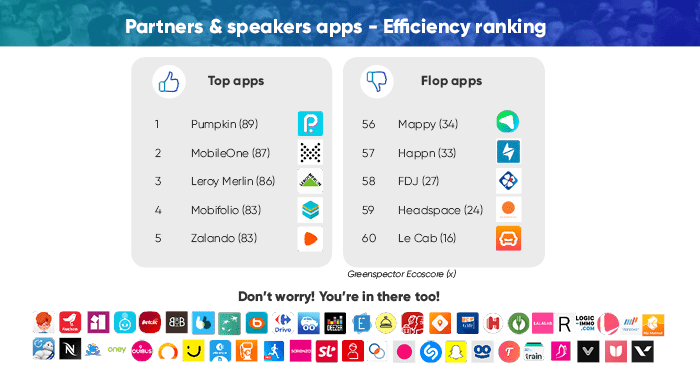 Our ranking of the mobile applications of the speakers and partners enabled us to evoke the subject at the same time with the big consumers of resources and the most sharpened on the subject. 2 examples at both ends of the ranking. The application Pumpkin publishes a solution available on the store, payment between friends, simplified its tracking and reduces the number of components to lighten its application. An unexpected result of number 1 for the team that had never benchmarked. At the other end, a user present on the event, told us he uninstalled an application that was in our Flop 5 because it was too consuming in terms of battery for an everyday use.

Kimberley DERUDDER has been digital marketing manager at Greenspector for more than 5 years. Kimberley graduated with a master's degree in Marketing – Communication and specialized in Inbound Marketing after her first two years at Greenspector. Today in charge of the animation of the marketing, social media and lead generation strategy, she also takes care of app comparisons and battles.