Publication of the W3C Web Sustainability Guidelines
Reading Time:
2
minutes
W3C
The W3C (World Wide Web Consortium: official website https://www.w3.org/) is an organisation that defines web standards (such as the technical elements governing the operation of HTML, for example) and guidelines. It was founded by Tim Berners-Lee in 1994.
As part of the Responsible Digital Initiative, the W3C is best known for its publication of the WCAG (Web Content Accessibility Guidelines: https://www.w3.org/WAI/standards-guidelines/wcag/). These rules for web content accessibility are a worldwide reference. In particular, they serve as the basis for the RGAA (Référentiel Général d'Amélioration de l'Accessibilité: https://design.numerique.gouv.fr/accessibilite-numerique/rgaa/ ), which in turn serves as the basis for the introduction of regulations on this subject in France.
Providing a framework for digital sobriety
Digital sobriety and the eco-design of digital services are becoming increasingly important, but it is difficult to define the framework for their application. In France, the legislative context is becoming increasingly clear, in particular via the REEN law (Réduction de l'Empreinte Environnementale du Numérique: https://www.vie-publique.fr/loi/278056-loi-15-novembre2021-reen-reduire-empreinte-environnementale-du-numerique ) and the RGESN (Référentiel Général d'Ecoconception de Services Numériques: https://ecoresponsable.numerique.gouv.fr/publications/referentiel-general-ecoconception/ ).
We will be coming back to this legislative framework in the very near future to provide you with a summary and outlook.
Nevertheless, we were very enthusiastic when W3C announced its intention to work on the subject of ecodesign in a concrete way (https://www.w3.org/community/sustyweb/2022/04/19/sustainability-recommendations-working-group/). I was lucky enough to take part in this working group (with Thierry Leboucq). The aim was to produce guidelines so that standards could subsequently be defined. It was an opportunity to meet some great people and compare digital sobriety practices with experts from all over the world. Well done to Tim Frick and Alexander Dawson for overseeing all this, and to all those who contributed to the sub-groups dedicated to specific themes:
UX Design
Web Development
Hosting & Infrastructure (which I monitored)
Product & Business Strategy
Metrics
The official release of a first version of the Web Sustainability Guidelines opens up this work to everyone: https://www.w3.org/community/sustyweb/2023/09/07/web-sustainability-guidelines/. It contains 93 recommendations and 232 success criteria. All this is in line with the GRI standards (Global Reporting Initiative: https://www.globalreporting.org/how-to-use-the-gri-standards/gri-standards-french-translations/ ).
What happens next?
The publication of the WSGs represents a historic milestone in the application of digital sobriety to the web. But let's not forget that this is just the beginning. The main purpose of this publication is to gather feedback from experts and then to see how this framework can be defined even more precisely. It is also hoped that this work will serve as a basis for wider adoption of the subject, so that countries can use it to define a legislative framework. This foundation also appears to be essential for training and raising awareness on the subject, but also as a support for initiatives to reduce the environmental impact of websites.
At Greenspector, we intend to continue contributing to these guidelines, in particular by providing feedback based on our practical experience of the eco-design of digital services. Very soon, these guidelines will be incorporated into the best practices on which we rely on a daily basis, as well as into the eco-design awareness-raising sessions that we offer.
In this way, we will be able to see in more detail how WSGs can be reconciled with existing reference systems (mainly RGESN and RG491).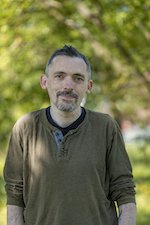 After working for more than 15 years in web development, Laurent Devernay became a technical consultant in responsible digital technology at Greenspector. When he is not coaching organizations on the eco-design of their digital services, he teaches courses on digital sobriety technologies.