What's the carbon impact for social network applications?
Reading Time:
6
minutes
The stay-at-home context has mechanically increased the mobile applications use of the social network type in order to keep people connected. Like the professional use of videoconferencing tools, these uses have brought additional pressure on the network and on the servers of these solutions.

What are our activities impact on social networks? What are the most / least impactful solutions for the environment, network congestion and the autonomy of our smartphones?
For this study, we've chosen to measure the news feed of the 10 most popular social media applications: Facebook, Instagram, LinkedIn, Pinterest, Reddit, Snapchat, TikTok, Twitch, Twitter and Youtube. Although these applications are different in terms of functionality, we have chosen to compare them in terms of carbon impact, energy consumption and data exchanged.
For each of its applications, measured on an S7 smartphone (Android 8), the user scenario lasting 1 minute was carried out through our GREENSPECTOR Test Runner, allowing manual tests to be carried out. For each of its applications, the user scenario corresponds to a scrolling of the contents of the news feed of an active account.
Each data measurement is the average of 3 homogeneous measurements (with a small standard deviation). The consumption measured on the given smartphone according to a wifi type network can be different on a laptop PC with a wired network for example.
To make Carbon projections to assess the impacts of infrastructure (data center, network), we relied on the OneByte methodology based on real data measured by the volume of data exchanged. This evaluation methodology takes into account the consumption of resources and energy in use for the equipment requested. As it is a very macroscopic approach, it is subject to uncertainty and could be refined to adapt a context, a given tool. For the Carbon projection, we have assumed a projection of 50% via a wifi network and 50% via a mobile network.
To make the carbon projection of the mobile, we measure both the energy consumption linked to the use case based on real measurement on real device and to integrate the share of material impact, we rely on the rated theoretical wear and tear generated by the use case on the battery, the first wearing part of a smartphone. 500 cycles of full charges and discharges therefore cause in our model a change of smartphone.
Projected data measured in Carbon impact (gEqCO2)
Youtube (0.66 gEqCO2) is first in the ranking, followed closely by Facebook (0.73 gEqCO2) and LinkedIn (0.75 gEqCO2). This is easily explained, since the only videos launching during the news feed for Youtube are thumbnails and this, after 2 seconds. It should be noted that in our test, the scanning of the news feed was slow enough to launch videos according to this principle of tempo.
On the Environmental Impact side of applications, the social network whose news feed is the most impacting is Tik Tok. Unsurprisingly, this social network is based exclusively on watching videos and preloading videos from the news feed at startup. The Shift Project also presents streaming platforms such as Netflix, Youtube and Tik Tok as being responsible for 80% of digital electricity consumption. We had already noted this significant impact, in particular when the application was launched in 2019.
Only 4 applications (Tik Tok, Reddit, Pinterest and Snapchat) are above the average carbon impact (2.1 qEqCO2) observed for this comparison of the news feed. Moreover, the Tik Tok news feed has a carbon impact of 7.4 times greater than that of Youtube.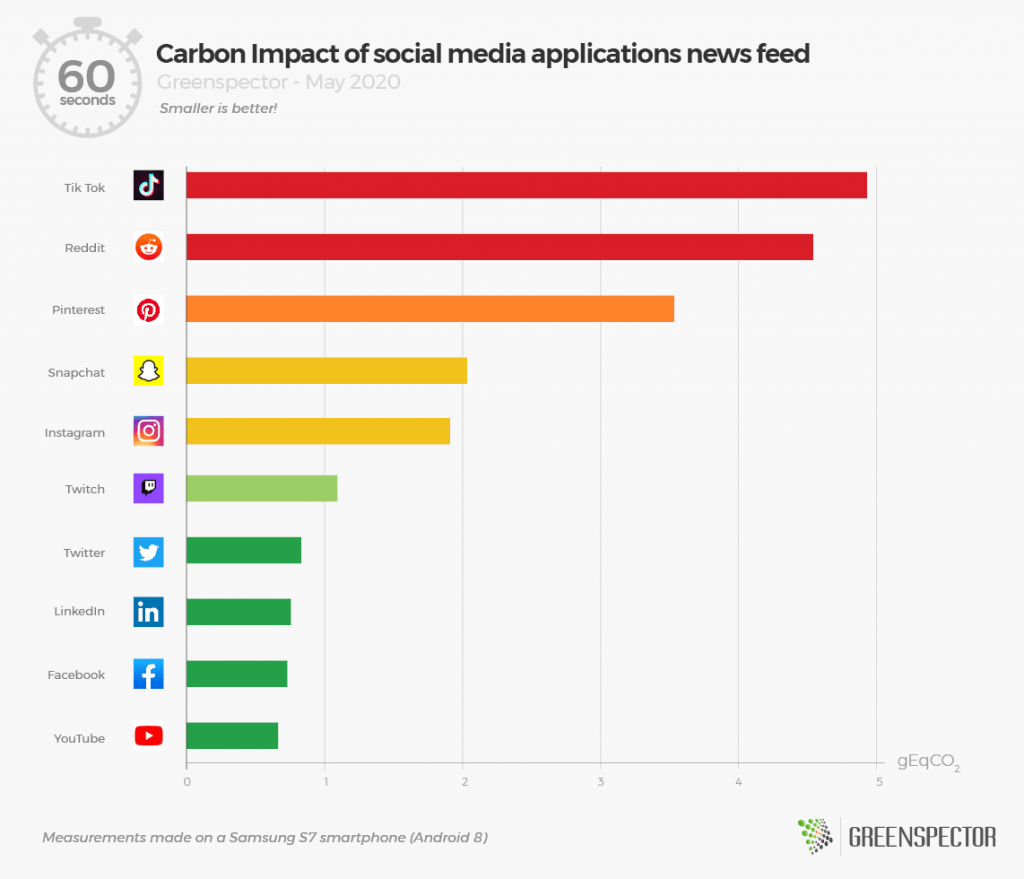 What if we were to project all of this at the user level?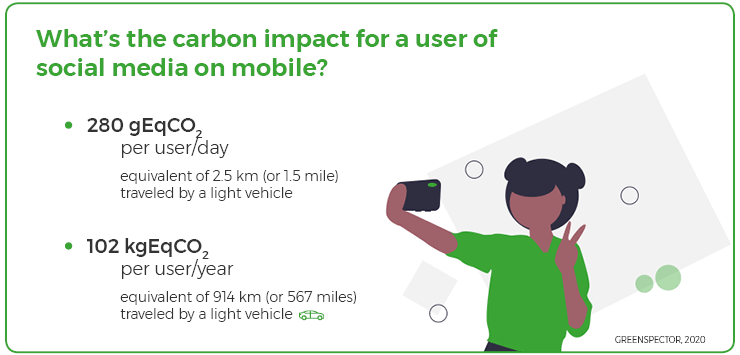 According to the Global Web Index 2019, we spend on average 2 hours and 22 minutes on social networks. If we project the average carbon impact of the 10 applications measured (2.10 gEqCO2) over 60 seconds at the average time spent per user, we obtain for a user/day: 280.5 gEqCO2. Or the equivalent of 2.50 km traveled in a vehicle. This also corresponds to 102 kgEqCO2 per user per year, the equivalent of 914 km traveled by medium vehicle in France. This is equivalent to 1.5% of the carbon impact of a French person (7 Tons).
And globally?

The 2019 figures of LyfeMarketing and Emarsys announce 3.2 billion social network users (42% of the world population) of which 91% access social networks via a mobile device. 80% of the time spent (2 hours and 22 minutes) on social networks is spent on a mobile device. If we project our carbon/user impact to these data, we obtain: 262 million Tons EqCO2 per year for the 3.2 billion users on mobile, the equivalent of 56% of EqCO2 impacts in France.
Energy consumption measurement (mAh)
In terms of energy consumption, the bad students are the news feeds of the Snapchat, Tik Tok and Pinterest applications. The good energy students are Youtube, LinkedIn, and Reddit. The Snapchat news feed consumes 1.6 times more energy here than that of Youtube.
The average established for energy consumption is 10.6 mAh, only 4 applications are above.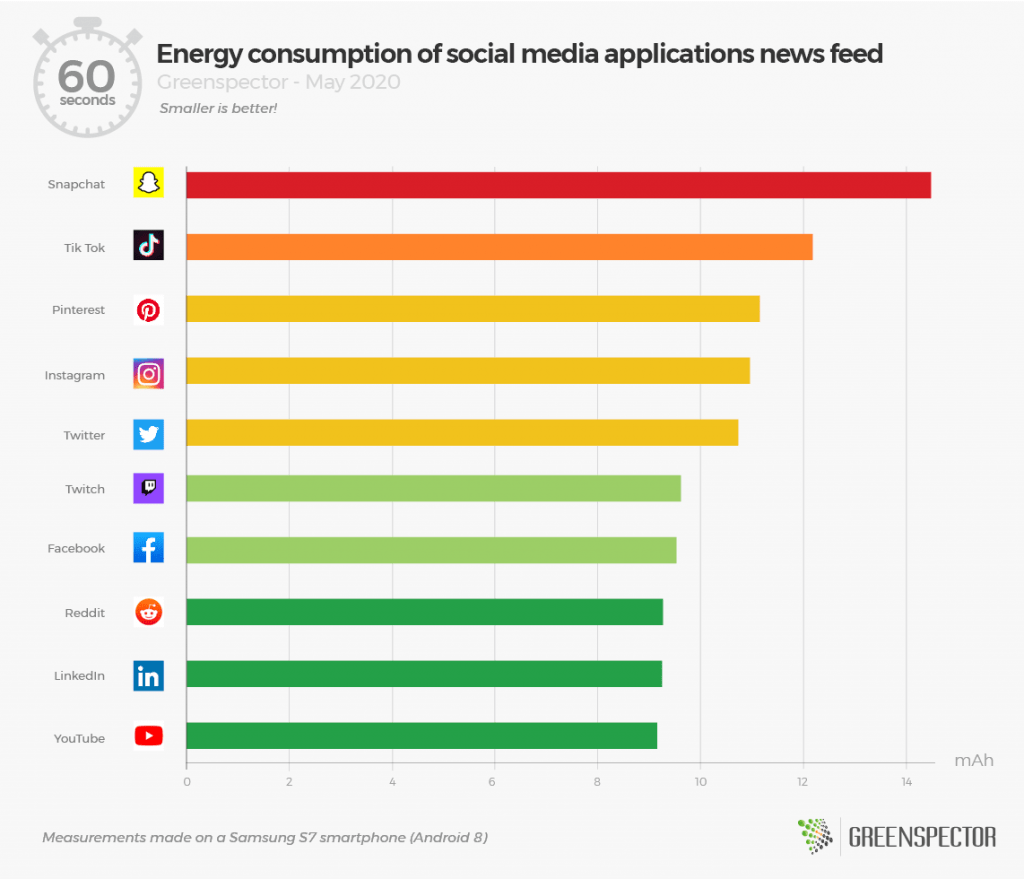 If we assume that the application runs continuously on the smartphone, then we can project the remaining battery life time (graph below). We can observe that with Snapchat running, the battery lasts 3.45 hours. On the Youtube side, the battery autonomy lasts 5.46 hours, i.e a ratio of 1.5 (or a difference of 2 hours) between the best and the least good application of this ranking. The average is 4.8 hours for all of these applications. The reference measurement of the test smartphone is 1.32 mAh, its battery capacity of 3000 mAh, we can estimate its autonomy at 18 hours. The use of social networking applications therefore greatly impacts your battery life.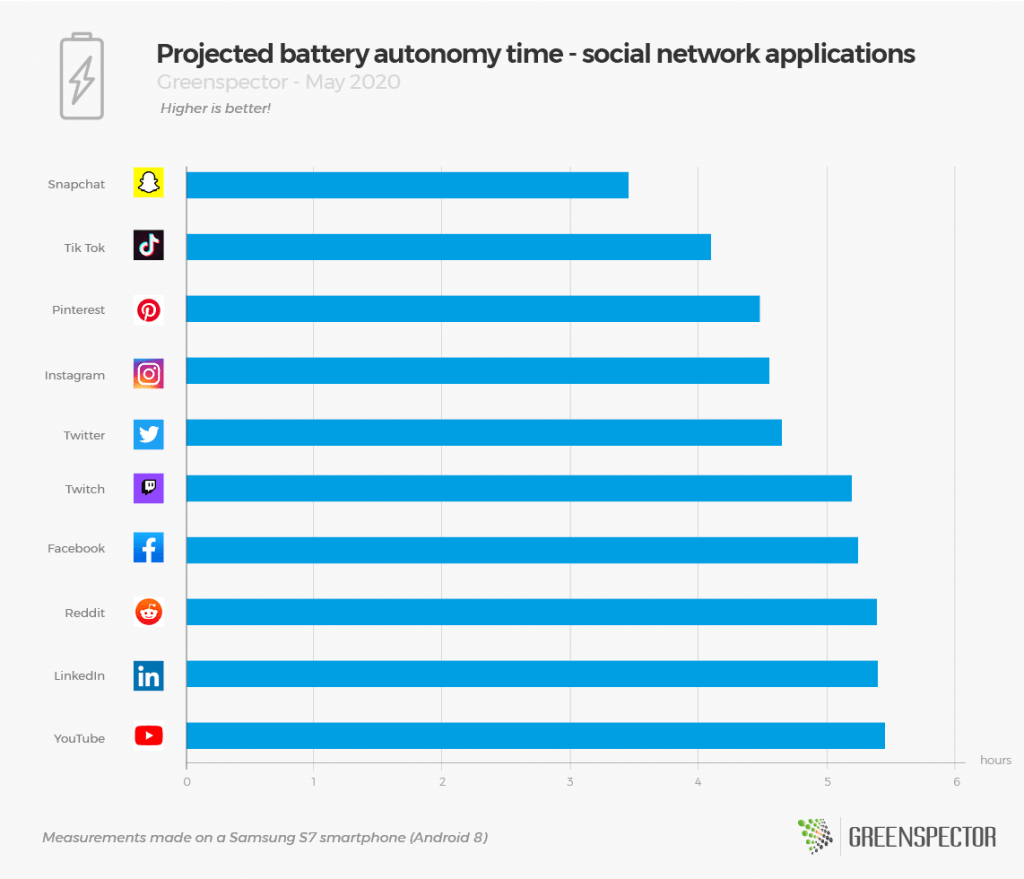 Measurement of data exchanged (MB)
In terms of data exchanged, the bad students are the news feeds of the Tik Tok, Reddit and Pinterest applications. The good students on the data exchanged side are Youtube, Facebook and LinkedIn. Tik Tok consumes 9 times more data than the Youtube application.
The average established for the data exchanged is 19.2 MB for this use. Beware of your data plans! Projection in 1 month, you will have consumed 74 GB!
Taking into account the real average time spent by social network according to the Visionary Marketing blog: if you only use Tik Tok in social network (up to 52 minutes per projected day), you will consume nearly 71 GB per month, while Instagram (up to 53 minutes a day) will consume 25.6 GB! Are you more connected to Facebook? This will make you consume almost 10 GB (up to 58 minutes per day) per month.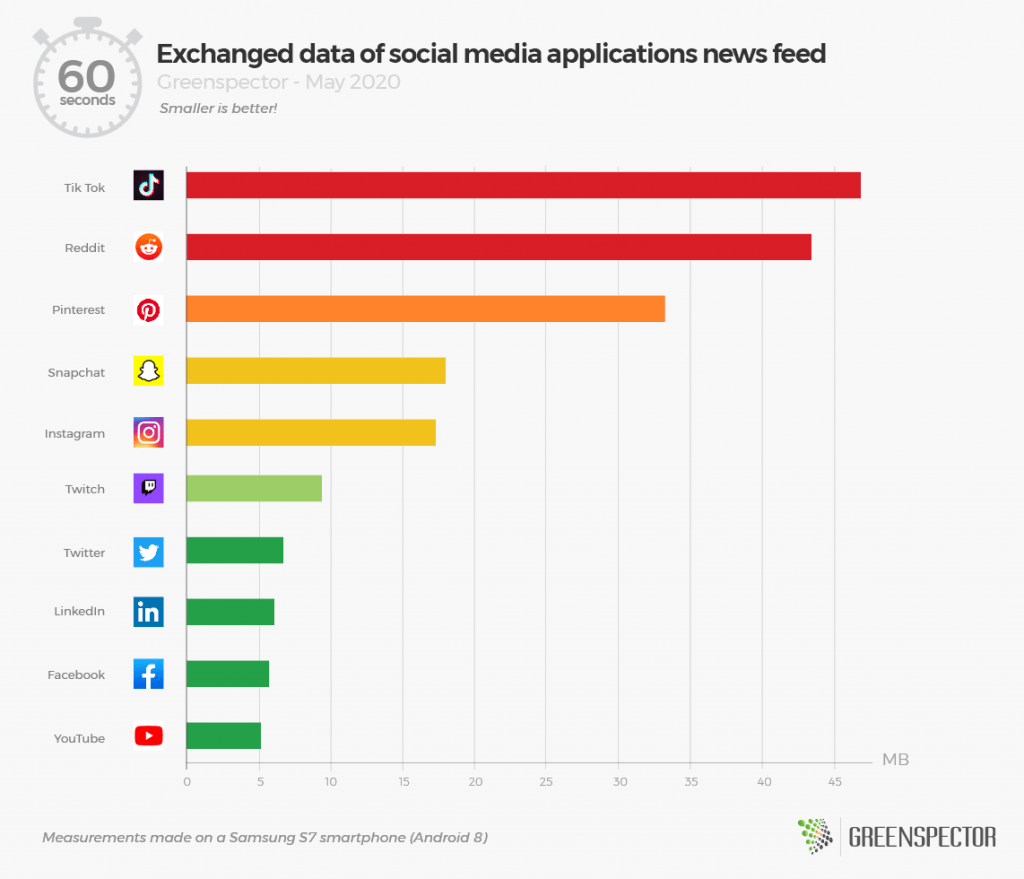 For those who like numbers
| | | | | | | | |
| --- | --- | --- | --- | --- | --- | --- | --- |
| Application | Version | Downloads | Google Play Store Grade | Energy consumption (mAh) | Data exchanged (MB) | Memory consumption (MB) | Carbon Impact (qEqCO2) |
| Facebook | 270.1/0.66.127 | 5 000 000 000+ | 4,2 | 9,5 | 5184 | 587 | 0.73 |
| Instagram | 142.0.34.110 | 1 000 000 000+ | 4,5 | 10,9 | 17,2 | 503,2 | 1.91 |
| LinkedIn | 4.1.451 | 500 000 000+ | 4,3 | 9,2 | 6,15 | 492,4 | 0.75 |
| Pinterest | 8.17.0 | 100 000 000+ | 4,6 | 11,1 | 33,2 | 432,7 | 3.53 |
| Reddit | 2020.18.0 | 10 000 000+ | 4,6 | 9,2 | 43,4 | 414,0 | 4.54 |
| Snapchat | 10.82.5.0 | 1 000 000 000+ | 4,3 | 14,4 | 18 | 505,8 | 2.03 |
| Tik Tok | 16.0.43 | 1 000 000 000+ | 4,3 | 12,1 | 46,9 | 385,5 | 4.93 |
| Twitch | 9.1.1 | 100 000 000+ | 4,6 | 9,6 | 9,4 | 374,4 | 1.09 |
| Twitter | 8.45.0 | 500 000 000+ | 4,5 | 10,7 | 6,6 | 421,1 | 0.83 |
| Youtube | 15.19.34 | 5 000 000 000+ | 4,1 | 9,1 | 5,1 | 379,3 | 0.66 |
Kimberley DERUDDER has been marketing and communication officer at GREENSPECTOR for more than 3 years. Kimberley graduated with a master's degree in Marketing – Communication and specialized in Inbound Marketing after her first two years at GREENSPECTOR. Today in charge of the animation of the marketing, social media and lead generation strategy, she also takes care of app comparisons and battles.