Joint interview with Thibault GEENEN, Ferpection CEO
Reading Time:
3
minutes
---
Ferpection and Greenspector are two companies that are rising into the field of mobile application testing. Let's meet their leaders, Thibault Geenen (Ferpection) and Thomas Corvaisier (GREENSPECTOR).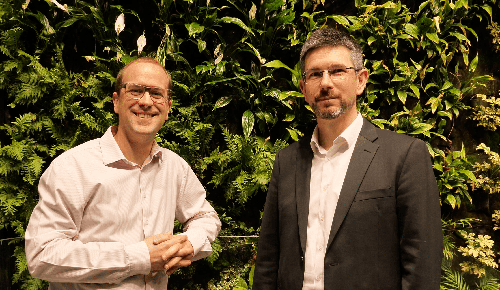 Describe your company in a few words
Thomas: Greenspector is a French start-up company from Nantes. We are editors of IT software solutions since 2015. We invest a lot in R&D: our innovation has been recognized during the Mobile World Congress 2018 where we received an award.
Thibault: Ferpection helps companies to test their websites and mobile applications by real users regardless of the time of the project. We have a liberated business operation which means, for instance, that our salaries are publicly available. Don't hesitate to join us no matter where you are in France or in the rest of the World!
Who are your main customers?
Thomas: Our customers are mainly large French companies, and more and more international ones. They call on us for their public applications (Operators bank …) or for their business devices fleets (French railways, Police forces …).
Thibault: Just like Greenspector, we mainly work with large French companies whose study needs may be national or international. All sectors are concerned by user experience work and our customers are representative of this movement, in B2C as B2B : Orange, BNP Paribas, L'Oréal, Vente Privée, Auchan, Louis Vuitton, etc.
How do you contribute today to the improvement of mobile applications?
Thomas: Thanks to Greenspector , development and test teams have access to the indicators they lacked to master the quality of applications – including battery consumption. Our devices Test Cloud ensures reliable, easy to obtain and reproducible measurements. The tool also gives tips for improvement. At the end of the day, their applications are lighter, faster and provide better use experience.
Thibault: The idea is to rely on user verbatim to improve the experience and deliver projects faster by avoiding internal debates. The sooner we get to work on projects with our customers, the more we can turn user needs into value for the business.
What about tomorrow?
Thomas: Many of our customers on Android also want to use our solutions on iOS. This is a request we have heard, work is in progress. The next big step will be the extension to the world of connected objects (IoT), where the needs in terms of control of the energy consumed by the devices are at least as important as on mobile.
Thibault: we are integrating more and more study methodologies into our platform in order to offer our customers enhanced ways to listen to their users while capitalizing on the power of crowdtesting: quick studies and hyper-operational reports
Do you have tips to give to a Product Owner?
Thomas: Analysis or monitoring tools are useful. But it's possible to control the efficiency of your applications very easily before each release. This allows you to act early, without your users having to suffer from malfunctions.
Thibault: Don't be shy! Do not hesitate to listen to your users early and regularly. You develop in agile mode, so why not test in agile too!
Find out more about Greenspector:

Greenspector is the editor of the first solution dedicated to energy efficiency for mobile and IoT applications.

Website: www.greenspector.com | Twitter: @green_spector
Find out more about Ferpection:

Ferpection helps companies optimize their website and mobile applications through remote user testing.

Website: www.ferpection.com | Twitter: @ferpection
Kimberley DERUDDER has been marketing and communication officer at GREENSPECTOR for more than 3 years. Kimberley graduated with a master's degree in Marketing – Communication and specialized in Inbound Marketing after her first two years at GREENSPECTOR. Today in charge of the animation of the marketing, social media and lead generation strategy, she also takes care of app comparisons and battles.